Scrip Program Management Software for Windows
Serving Scrip Program Directors since 2008
What is ScripTrace?
ScripTrace is Microsoft Windows software that has everything that you need to run your school's scrip program. Keep a detailed picture of your inventory and accounts for all of your families. ScripTrace is a complete point of sale program that tracks your sales, vouchers, voucher redemptions and inventory. ScripTrace allows you to customize what percentages of each sale is given as vouchers, you can run promotional inventory, track custom denominational inventory, and run reports to give you a clear picture of your scrip program from top to bottom.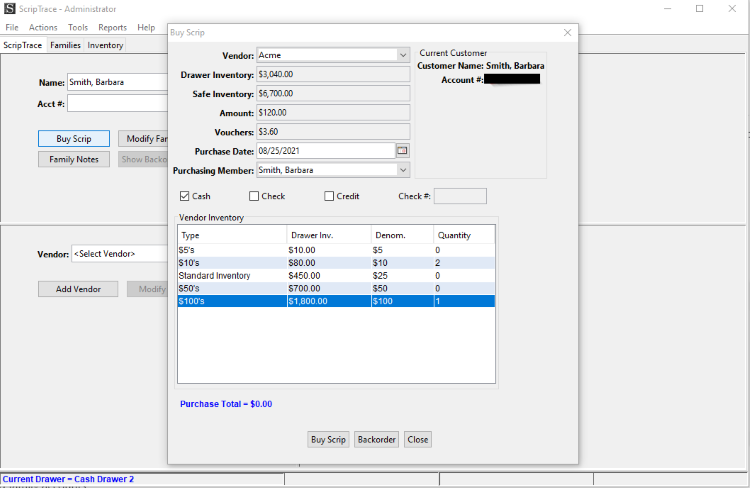 ScripTrace Features:
Complete point of sale with custom receipts. (receipt printer sold seperately)
Unlimited number of family accounts.
Unlimited number of vendors.
The ability to redeem vouchers and track voucher redemptions.

Set custom voucher expiration periods.
Allows families to gift vouchers to other families or back to the school.
Claim expired vouchers back or allow expired vouchers to be redeemed.
Abillity to void voucher redemptions if incorrect.

Track back orders.
Track online sales.
Void any sale at any time.
Onsite database server allows you to sell from multiple locations on your network or see your data from multiple computers on the network.
Seperate admin and seller logins. Admin features are disabled for volunteer sellers.
PDF reports that show everything from sales, inventory, vouchers, redemptions, backorders and many more.
Keep seperate safe and drawer inventory with unlimited number of cash drawers to sell from.
Clean up inactive family accounts.
Restore deleted family accounts.
Alerts you if updated software versions are available so you'll always have the latest version.
Interested in a ScripTrace demo or have pricing questions? Email
sales@ridgeviewsoftware.com
for more information.